For All Your Blunt Needle Needs
Blunt needles are used in a huge number of dispensing roles where sharp alternatives risk users health or safety.
Our products cover a wide range of materials, usage and even chemical compatibility options thanks to their luer standard fittings. The male/female leak free connections create simple, effective tool combinations between needles, syringes, and other solutions such as our SquEasy range of dispensers.
So, whether you are filling inkjet cartridges, mixing e-liquids, or applying adhesives, our products cover a multitude of diverse applications.
Click here to start exploring our product catalogue and order online
End-User or Business Bulk Buyer
Our products appeal to a variety of customers, from individual end-users, to businesses buying in bulk.
As a result, our site easily caters for these requirements with no minimum orders and bulk purchase discounts built in. So, feel free to explore our store and check out products and prices.
If you have any questions, our FAQ section covers many of the standard queries, but feel free contact us if you need any further help.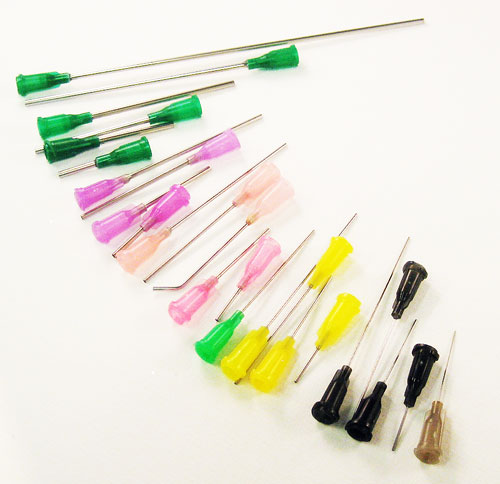 Our needles range in size from the widest, at 12 gauge, to the smallest diameter 30 gauge. These variations allow for controlled flow rates and material viscosity.
We're also able to offer a range of needle materials to cover chemical compatibility, flexibility and scratch avoidance. These include: All-metal, PTFE (Teflon), Polypropylene as well as the standard stainless steel cannula type needles.
Tip lengths vary between 0.5 and 5 inches although 3 inches tend to be the longest for the majority of our products.
Lastly, we can even supply bent tipped needles (45 or 90 degrees), flexible cannula or our PTFE-lined units which combine the rigidity of a steel outer cannula with the inert properties of the teflon liner.